16th International Conference on
Breast Pathology and Cancer Diagnosis
Montreal, Canada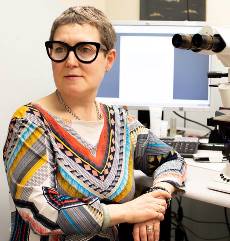 University of Alberta, Canada
Title: Electron microscopy of tumorous mitochondria in six cases of invasive ductal carcinoma of different biologic subtypes
Biography
Biography: Sveta Silverman
Abstract
Background: Breast cancer is the most common cancer among Canadian women (excluding non-melanoma skin cancers). It is the 2nd leading cause of death from cancer in Canadian women. The significance of mitochondria in breast carcinoma is widely recognized but insufficiently researched. This is the first study of electron microscopy of tumorous mitochondria, performed on six cases of human invasive ductal carcinoma of different biologic subtypes.
Methods: 6 cases of invasive ductal carcinoma of different biologic profile (two cases of triple negative, one case of luminal A, two cases of luminal B and one case of Her2-neu positive invasive ductal carcinomas) were reviewed and selected sections were subjected for digital electron microscopy.
Results: All 6 cases revealed abnormal mitochondria with a high degree of mitochondrial heterogeneity. All cases showed an increase in overall mitochondrial numbers and mitochondrial mass. We have shown extreme mitochondrial pleomorphism. Mitochondrial fusion and fission are observed.
Conclusions: This is the first study, performed on samples, obtained from human invasive ductal carcinoma of different biologic subtypes. We have shown that mitochondria in invasive ductal carcinomas not only dysfunctional but display conspicuous alterations in multiple ultrastructural aspects. We have captured the intracellular microenvironment in relations to tumorous mitochondria. All of these changes can be beneficial for future breast carcinoma treatments, whether it is the development of new anti-neoplastic therapeutic modalities or simple lifestyle alterations