Day 1 :
Keynote Forum
Medical College of Wisconsin, USA
Time : 10:00-10:50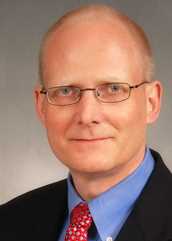 Biography:
Hallgeir Rui, MD, Ph.D. is internationally recognized for his research on breast cancer and has a strong track record of leadership, mentoring and collaboration. He is the WBCS Endowed Professor of Breast Cancer Research in the Department of Pathology at the Medical College of Wisconsin (MCW), Milwaukee, WI. He also serves as the Interim Co-Director of the MCW Cancer Center. He earned a medical degree and a doctorate in experimental pathology from the University of Oslo, Norway. His research on growth factor signaling in breast cancer is internationally recognized. He authored or coauthored more than 150 publications that have been cited nearly 8,000 times.
Abstract:
Breast cancer is a heterogeneous disease and there is a great need for individualized treatment. Immunohistochemistry provides valuable spatially resolved marker analysis at the tissue level, which is valuable due to extensive inter tumor and intratumor heterogeneity. Pathologists typically evaluate protein marker expression visually in formalin-fixed paraffin-embedded tumor sections by chromogenic immunohistochemistry. However, pathologist scoring of chromogen staining intensity is subjective, and provide only reduced data that is discrete, either ordinal or nominal (negative/positive). In contrast, digital pathology platforms allow quantification of chromogen or fluorescence signals by computer-assisted image analysis, providing continuous signal intensity values. Fluorescence-based immunohistochemistry (IF-IHC) provides greater dynamic signal range than chromogen-immunohistochemistry. Combined with image analysis software, fluorescence-based immunohistochemistry holds potential for enhanced sensitivity and greater analytic resolution, resulting in more robust quantification. We will show novel and unpublished progress with breast cancer markers related to immune checkpoints, proliferation, and metabolism, incorporating signal intensities at the cell-by-cell level and employing new spatial statistics to extract additional layers of therapy-relevant information. The path toward implementation of objective tumor marker quantification in pathology laboratories will be discussed.
Keynote Forum
University of Alberta, Canada
Time : 11:05-12:00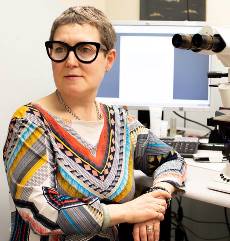 Biography:
Sveta Silverman began her medical career as a Paediatric Surgeon in the former Soviet Union. After she made Canada as her home in 1991, she broadened her studies and work into the field of Pathology. As a Pathologist, she is really good at finding the root causes of medical problems and also good at finding ways to heal medical conditions.
Abstract:
Background: Breast cancer is the most common cancer among Canadian women (excluding non-melanoma skin cancers). It is the 2nd leading cause of death from cancer in Canadian women. The significance of mitochondria in breast carcinoma is widely recognized but insufficiently researched. This is the first study of electron microscopy of tumorous mitochondria, performed on six cases of human invasive ductal carcinoma of different biologic subtypes.
Methods: 6 cases of invasive ductal carcinoma of different biologic profile (two cases of triple negative, one case of luminal A, two cases of luminal B and one case of Her2-neu positive invasive ductal carcinomas) were reviewed and selected sections were subjected for digital electron microscopy.
Results: All 6 cases revealed abnormal mitochondria with a high degree of mitochondrial heterogeneity. All cases showed an increase in overall mitochondrial numbers and mitochondrial mass. We have shown extreme mitochondrial pleomorphism. Mitochondrial fusion and fission are observed.
Conclusions: This is the first study, performed on samples, obtained from human invasive ductal carcinoma of different biologic subtypes. We have shown that mitochondria in invasive ductal carcinomas not only dysfunctional but display conspicuous alterations in multiple ultrastructural aspects. We have captured the intracellular microenvironment in relations to tumorous mitochondria. All of these changes can be beneficial for future breast carcinoma treatments, whether it is the development of new anti-neoplastic therapeutic modalities or simple lifestyle alterations
Keynote Forum
Cyrcadia Health, USA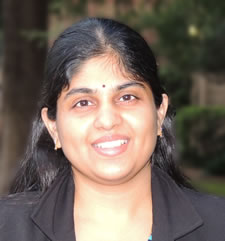 Biography:
Vinithasree Subbhuraam has published 90 journal papers, conference articles, and book chapters, and her work is internationally recognized by her peers as evidenced by more than 3752 citations to her work. She is the Co-Editor of the book Diagnostic and Therapeutic Applications of Breast Imaging published by SPIE, USA, 2012. She is the Associate Editor of the Journal of Medical Imaging and Health Informatics (JMIHI), and an invited reviewer for several international journals such as International Journal Thermal Sciences, IEEE Transactions on Biomedical Engineering, Physical Review, IEEE Transactions on Information Technology in Biomedicine, Artificial Intelligence in Medicine, Computers in Biology and Medicine, Journal of Mechanics in Medicine and Biology, Neural Computing and Applications, and Neurocomputing. She holds M.S. and Ph.D. degrees in Biomedical Engineering from Nanyang Technological University, Singapore, and a bachelor's degree in Electronics and Communication Engineering from PSG College of Technology, India.
Abstract:
The AprísÔ (iTBraÔ, CyrcadiaÔ) wearable sensor technology for breast health monitoring is a dynamic (time-based) thermal differential detection system, which detects abnormal circadian surface temperature changes such as those reported to be associated with breast cancer. Temperature measurements are sequentially taken over time to determine changes in circadian readings indicative of physiological changes in the breast tissue that may be associated with cancer. The AprísÔ consists of three major components: (1) Temperature Sensors (2) Recording device (3) Software for Analysis. The sensors are embedded in two fabric patches that are placed on the breasts. An associated data recorder gathers and transmits raw data to a mobile phone App which in turn transmits the raw data to a cloud-based proprietary analytic software. The user is expected to wear the patches continuously for 2-24hrs. The results of the analysis are transmitted back to the user or the user's physician. Pilot clinical studies have indicated that the device is useful to detect abnormalities in all types of breast tissue, irrespective of breast density, with potential application for periodic breast health screening. The device was modified to address findings in the pilot study; clinical studies with the current version of AprísÔ are scheduled to begin in May 2019. AprísÔ is a tissue density independent, radiation-free, compression-free, non-invasive, low cost, early risk indication screening system for breast tissue. Early detection of breast cancer has been reported to include monitoring for dense tissue. The US FDA has announced its focus on dense breast tissue regarding breast cancer monitoring and diagnosis. Early dense breast tissue detection systems like AprísÔ have significant potential diagnostic and prognostic implications in conjunction with additional testing to confirm the presence or absence of breast cancer in consultation with the physician. Circadian changes in temperature could be a potentially excellent secondary diagnostic modality for breast cancer detection. We believe this could have a significant impact on the current practices for breast cancer monitoring and diagnosis.
Coping Strategies of Breast Cancer | Breast Cancer Screening, Monitoring and Diagnosis | Neuropathic pain after surgery- prospective cohort study
Location: Montreal, Canada
Chair
Sveta Silverman
University of Alberta, Canada
Co-Chair
Vinithasree Subbhuraam
Cyrcadia Health, USA
Session Introduction
The Annie Appleseed Project, USA
Biography:
Ann E. Fonfa was diagnosed with cancer in January 1993. Thus she is now a 26+ year survivor unable to take chemo, refused radiation, and hormonal therapy, lots of surgeries and many, many natural approaches. She began exploring Integrative Oncology before it was called that. She gathers the evidence around natural cancer strategies, lifestyle issues, and holistic therapies. Small and separate studies demonstrate that lifestyle makes a lot of difference for anyone with cancer at any stage including immediately after diagnosis. Her nonprofit Annie Appleseed Project has been online since June 1999 and has had millions of visits. Board members helped create the concept of 3 Steps 4 Health which is widely distributed as a postcard.
Abstract:
Annie Appleseed Project has been gathering evidence around simple natural steps that can make a big difference in the way people go through cancer treatment. We all agree that there are too much pain and suffering and it can start early on in treatment and sometimes last a very long time. Thus we suggest immediate acceptance and implementation of all 3 Steps. Many epidemiological studies suggest that the Mediterranean diet is an excellent one for health. It is has been shown to reduce cancer risks, heart disease, diabetes, etc. Step 1 of our plan is to eat ONE more fruit and ONE more vegetable each day. We start this so simply because asking people to make huge changes that may benefit their health in many ways, should begin with a step easily taken. Physical activity/movement/exercise has been well studied and shown to be helpful in any stage of cancer, i.e. in treatment and through survivorship, but also shown to improve overall health. Exercise professionals stressed the first 60 minutes a day, then 30 minutes of vigorous physical activity. Lately, studies are showing that just ten minutes daily can make a difference. Step 2 of our plan is to take a walk. Start at 'your' level. Stress has been shown to be a major factor in both mental and physical health. It is how stress is handled that seems to matter. Step 3 take 7 deep breaths before bedtime (sleep issues), before treatment or at any time needed.
McGill University, Canada
Biography:
Navpreet Arora has passed her BDS (Bachelor of Dental Surgery) in 2008, from India. She has practiced dentistry for 5 years. Interest to explore new things has brought her to Canada. Cancer was always a fascinating field to her. Currently, she is pursuing her M.Sc. in Dental Sciences (Thesis) at McGill University, Montreal. Her study project is related to breast cancer and pain.
Abstract:
A 3-month prospective cohort study was designed to assess the relationship between the type of surgery and chronic neuropathic pain (CNP) after breast cancer surgery (BCS). 238 female breast cancer patients (18 years or older) were recruited from Segal Cancer Centre, Montreal. Information regarding acute post-operative pain, type of surgery, axillary status, anxiety, depression, CNP and DN-4 score was collected. CNP (outcome) was assessed by telephone using Douleur Neuropathique (DN-4) instrument at 3 months of BCS. Linear and logistic regression analyses were used to assess the association between type of surgery and CNP as well as DN-4 score. At three months following BCS, 44 patients (24%) reported CNP. The most frequent symptoms describing this NP were: burning (31%), itching (31%), numbness (24%), pin and needles (24%). The DN-4 score was positively associated with mastectomy (β=0.77, P=0.04). Participants who received mastectomy were almost 2.5 times as likely to present CNP at three months (OR=2.49, P=0.08) in comparison to those who received segmental mastectomy. This likelihood was specific to participants presenting painful cold (OR=21.6, P=0.01) or pins and needles (OR=4.15, P=0.006). This association was not modified by participants age or their emotional status. Results indicate that mastectomy increases the likelihood of DN-4 score, particularly with Pins and needles and painful cold. Knowing mastectomy may increase the CNP risk, we can seek improvements to the clinical protocol to prevent this risk among patients who need to receive this surgery.
Addis Ababa University, Ethiopia
Biography:
Workinesh Daba Seboka has completed her B.Sc. at the age of 24 from Addis Ababa University, School of Nursing and Midwifery and Masters of Public Health in Reproductive and Family Health from Addis Ababa University School of Public Health. She is a Lecturer at Addis Ababa University College of Health Sciences, School of Nursing and Midwifery. She has six years of work experience and an expert midwife professional.
Abstract:
Background: A diagnosis of breast cancer regardless of the stage can be stressful, impact multiple spheres of life, and disrupt physical status, emotional and spiritual well-being, and personal relationships for the patient and family. In order to adapt, the patient ought to employ certain coping mechanisms.
Objectives: The objective of the study is to assess the coping strategies of women with breast cancer in Black Lion Hospital, oncology department.
Methods: An institutional cross-sectional survey was employed to collect data on coping strategies of women with breast cancer seeking care at Black Lion Hospital, Oncology Department, Addis Ababa Ethiopia from March to April 2016. A structured interviewer-administered questionnaire was used to collect information from study participants. The data collection process was guided by an interviewer to gather information from the study participants. Data coding, entry, and cleaning were accomplished using Epi-Data3.1 after which it was exported to SPSS version 23 for analysis.
Results: The finding of this study showed the most commonly used coping strategies among women with breast cancer seeking care at Black Lion Hospital were self-distraction, planning, behavioral disengagement, and religion. It was found that coping with breast cancer was significantly associated with age less than 49 years which is 5 times more likely than with age greater than 50 years (AOR 4.582; CI95%: 1.532-13.699). Married women were 4 times more likely to cope with breast cancer compared to unmarried women (AOR 3.601; 95%: 1.434-9.044). Being educated secondary school and above is associated 4 times more likely to cope with breast cancer than illiterates.
Conclusion: A diagnosis of breast cancer causes stress to the patient. Predominant coping strategies used were: Self-distraction; planning; behavioural disengagement; and religion. The strategy employed influences adaptation to the diagnosis.